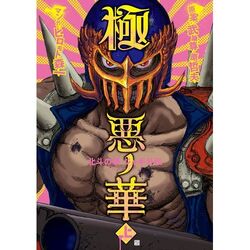 Fist of the North Star Jagi Side Story: Flower of Carnage (北斗の拳 ジャギ外伝 極悪ノ華, Hokuto no Ken Jagi Gaiden: Gokuaku no Hana) is a manga series by Sin-Ichi Hiromoto. It was originally serialized in the Weekly Comic Bunch from 2008 throughout 2009 and was later released in two tankōbon volumes.
Ryuken Gaiden - The Judgement Day
Edit
The second volume also includes the one-shot story Hokuto no Ken Ryuken Gaiden - The Judgment Day (北斗の拳リュウケン外伝 THE JUDGEMENT DAY), originally published in the January 8, 2007 issue of Comic Bunch, which focuses on Ryuken's whereabouts on the day of the nuclear war.
This story is a spinoff to the original Fist of the North Star by Buronson and Tetsuo Hara, and covers the events of Jagi's life before and during his appearance in the manga. This includes how he came to be adopted by Ryuken and his failed struggle to become successor up until his inevitable downfall.
Community content is available under
CC-BY-SA
unless otherwise noted.